What was the experience like for AIE at PAX 2018?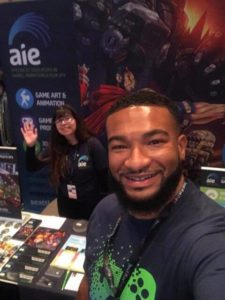 Once again, the city of Seattle was fired up for PAX West 2018 at the Washington State Convention Center. Our booth was an engaging display of student games and creations, encapsulating what AIE is all about to PAX West attendees.
We believe all young professionals deserve a chance when it comes to networking opportunities, and PAX is no exception. Being one of the largest video game conventions in the world, an opportunity to show your game at PAX West is a goal for all game developers, for both AAA and indie developers alike.
We give this chance to our students and alumni to represent themselves as the industry professionals they are, and to apply what they've learned during their education at AIE. Game Art and VFX students are provided with the opportunity to showcase their passion using the Cintiq, demonstrating what's possible with the tools of the trade. PAX attendees who visit our booth are also encouraged to explore their creativity and are always welcome to use the Cintiq.
The opportunity to demo your game, and network with the best in the industry.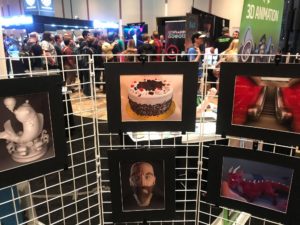 Showcasing games at our booth, were three game development teams. On one corner, attendees had the opportunity to experience the strategy builder game, called: Buoyancy. Stationed on the leftmost corner was Love.Exe, demonstrating their interactive, comical story-driven visual novel game. The last development team was Grunka Munka Games. Grunka Munka Games displayed their high-energy multiplayer game, Collidalot, which is coming to the Nintendo Switch later in the year.
These young game developers used PAX West as the perfect opportunity to gain feedback from gamers, fellow game developers, and networked with industry veterans, from prestigious indie and AAA studios, to publishers looking for their next title.
New to the booth in 2018, we dedicated a space for students and alumni to showcase their best pieces in the art gallery. This art gallery displayed creations from both students and alumni from the Game Art and VFX programs. The gallery ranged from 3D models, textures, and 2D concept art pieces.
When you're at PAX, you feed off the passion and energy from everyone around you. Whether it's the excitement you share with those who were willing to take the time to play your game, or to inquire about the education experience at AIE, PAX is the industry event for both the gamer and the developer to be in the element of what they are most passionate about.