We used the force at ECCC17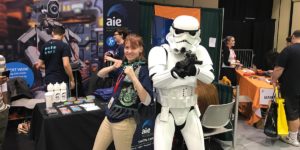 The City of Seattle was once again fired up for the 2017 Emerald City Comicon (ECCC), which was held at the Washington State Convention Center in downtown Seattle, WA.  For the 6th consecutive year, the Academy of Interactive Entertainment partnered with ECCC to contribute to the fun and to provide information about AIE amidst the costumes, fans, and amazing comic art!
At our booth AIE displayed our marvelous Wacom Cintiq drawing tablet/monitor where are students and people visiting our table can actually doodle & get creative on professional level equipment and software. In a convention center full of artists and lovers of art, AIE and its students were a perfect fit.
Reminiscing on last week's Emerald City Comicon there's one word that can only describe the energy of this event. That word is "PASSION." Thousands of people filled up downtown Seattle with the confidence to outwardly show and express their passion and love of comics.
Whether it was a fan wearing a T-shirt of their favorite game or movie or a world class cosplayer in full character, there was a shared sense of community of which we were proud to be a part. And we definitely saw that our AIE students and staff are really FANS of everything Comicon! We met a lot of people interested in AIE who showed the same type of passion we see everyday in our classrooms. This event truly proved that the educational and industry presence of AIE is definitely growing in the right direction.