Our Seattle, WA campus is located in the heart of the city at Seattle Center - right next to the iconic Space Needle. A long-time hub for the video game industry, Seattle is home to studios like Valve, Bungie, and Nintendo of America, along with countless emerging independent game studios. Convenient public transit options, plenty of fun activities, and great restaurants make Seattle Center a great location for our students.
Seattle is a thriving city full of things to do! While at Seattle Center, check out the Space Needle, Museum of Popular Culture (MoPop), or Pacific Science Center. Within easy reach are Pike Place Market, Seattle Art Museum, and the beautiful Seattle Public Library. Branch out just a little further, and explore the International District, Woodland Park Zoo, the Museum of History and Industry, or the Flight Museum!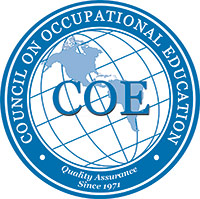 The AIE Seattle campus is accredited by the Commission of the Council on Occupational Education. Council on Occupational Education, 7840 Roswell Road, Building 300, Suite 325, Atlanta, GA 30350, Telephone: 770-396-3898 / FAX: 770-396-3790 www.council.org
Seattle hosts a number of exciting arts and cultural events, like Bumbershoot, Seattle International Film Festival, Folklife, and Pridefest, just to name a few. There is always something going on around town! Catch a sporting event in SODO or attend a concert at one of the many venues around.
Seattle is also home to numerous game studios and tech companies! With names like Gas Powered Games, 5th Cell, 343, Hidden Path, and PopCap, where else can you go to be better connected to the games industry? Events like PAX Prime, Emerald City Comicon, and Sakura-Con draw thousands upon thousands of industry enthusiasts to Seattle every year. Immerse yourself!
Local Area
AIE Seattle is located in the Seattle Center Armory (formerly the Center House) @ 305 Harrison St, Suite 405, Seattle, WA 98109.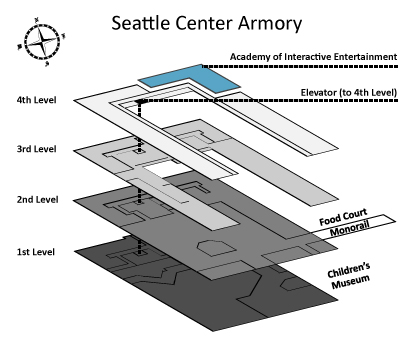 (206) 428-6350

(206) 428-6354

 fax
uscampus@aie.edu.au
facebook.com/AIESeattle
Seattle Center's address is 305 Harrison Street. However, it is much easier to find directions directly to a parking garage or lot. Here are the three closest paid lots to our building:
5th Ave. Garage: 516 Harrison St., entrances at Harrison St. and at Republican St (one block down).

Mercer St. Garage: 650 3rd Ave. N

Public Parking uncovered lot - 5th Ave. N and Harrison St.
Click here to learn more about parking at Seattle Center and in downtown Seattle. You may be able to find street parking in the surrounding area as well. Rates will vary.
How do I get to AIE's Seattle Campus?
DIRECTIONS
From I-5:
Take exit 167 for Mercer St. Go straight through the first few traffic lights and follow Mercer as it becomes Broad and dips down below I-99. Turn right at the next light, Harrison St. Immediately to your right is an entrance to the parking garage closest to our campus (5th Ave. Garage).
You may also proceed to the next light at 5th Ave. and go straight to park in the uncovered paid lot to the right. Your third option is to turn right at that light onto 5th Ave., then take the third left onto Roy. Take another left onto 3rd Ave. and there will be another parking garage to your left (Mercer St. Garage).
From I-99 N:
Take the Roy St. exit. Take a left onto 3rd and there will be a parking garage to your left (Mercer St. Garage). Or, from Roy, take a left onto 5th, then another left onto Republican and you will be at the entrance to a parking garage (5th Ave. Garage). You can also take a right onto Republican and you can enter the uncovered paid lot to the left.
From I-99 S (Alaskan Way Viaduct):
Take the Western Ave. exit and turn right onto Wall St., then left onto 1st Ave. Continue north on 1st for about 3/4 of a mile and turn right onto Mercer. Take a left onto 3rd and a parking garage will be on your right (Mercer St. Garage). Or, continue on Mercer and take a right onto 5th. Take a right at Republican to enter the uncovered paid lot, or a left at Republican to enter the parking garage there (5th Ave. Garage).
Our campus is located in the Seattle Center Armory, which is the concrete building near the middle of Seattle Center. It is west of EMP and east of Key Arena. Click here to see a Seattle Center map.